Isn't Pink Pagoda AMAZING? I am soooo happy to have discovered Jennifer and her super chic blog! And just imagine how wonderful it was for a blue and white fan
nutjob
like myself to meet up with someone who is as obsessed with it as I am. It is comforting for one to know I am not the only one out there with this affliction. I mean
seriously
anyone who would even
think
to come up with not one, not two but
three
different chinoiserie iPhone cases in blue and white is a goddess in my book. So Jennifer, you rock!
Naturally
when I was asked to do a post on blue and white, I jumped at the chance and said yes faster than you can say the words chinoiserie (another thing I am crazy for)!
Today I decided to show you around my own home, and though we have just moved about a month ago you can see that blue and white worshiping abounds all over the place, a virtual shrine to the magic of blue and white. Not an overkill mind you, but touches in all the right places just to give it that little pop. Hope you enjoy...come on in!
My newest setting on my center island in my kitchen
In my kitchen, my motto is "no such thing as too much blue and white" and I am just getting started...its such a classic and to me, works in virtually any kitchen! Come on in and take a look.....
Here was some of my blue and white during moving week....
Here's a hutch in my kitchen, still very much a work in progress but its coming along...
We are big coffee and tea drinkers here...so I have tons of blue and white mugs!
And of course the orchid in my kitchen has to be in blue and white too!
Ditto my azalea tree!
Up there is a pair of antique Chinese blue and white jars..they are so pretty!
Love this oversized square dish of British castles......
A host of blue and white fabrics I am playing with for my kitchen window treatments....
This is the one I am leaning towards......
Then we move into my bathroom, still very much a work in progress but you better believe my two ginger jars and a pretty planter for an orchid got first dibs on their spots in my bathroom before anything else. I found a perfect fabric linen in, of course blue and white which I am going to be using for the window treatments....have a look!
Finally, as we meander down the blue and white brick road......I also liked these ginger jars in my family room. They can be placed just about anywhere, and I like seeing ginger jars under a console on the floor too. Take a peek........
So there you have it, trust me this engine is just starting to rev itself up and when I am done with the house, it will be like a virtual shrine to blue and white. Well I am exaggerating.... kind of. Thank you so much Jennifer for letting me take over today and having me over to your beautiful blog, and to all the readers...hope you enjoyed this post. Wishing every a bluetiful day :)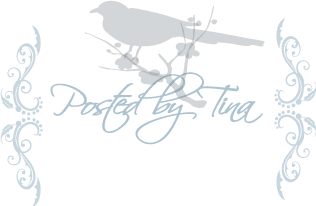 What a treat to get to see Tina's gorgeous blue and white! Her blog has won many awards, and deservedly so. She'll be opening an online store soon, and if you've spent any time on The Enchanted Home, you know her offerings will be to die for lovely. I can't wait to see it, and I'll definitely be featuring it here.
Thank you so much, Tina, for being here today!